Reins of the Grand Ice Mammoth
Mount
Use: Teaches you how to summon this three-person mount.
Alliance Only
Requires Level 40
Requires Journeyman Riding
Requires The Sons of Hodir - Exalted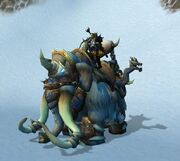 This mount allows for two passengers, much like the Traveler's Tundra mammoth. It does not, however, have the two vendors with it.
Source
This item is a reputation reward; you must be exalted with The Sons of Hodir to buy it from Lillehoff <The Sons of Hodir Quartermaster> for 10000

.
Notes
Patch changes
Patch 3.1.0 (2009-04-14): The mount no longer uses vehicle mechanics (see 3.0.8 change below); it uses mount mechanics (again?). Passengers take damage as on other mounts.

Patch 3.0.8 (2009-01-20): The mount no longer takes damage and can no longer die when falling a great distance. Instead, it resists all damage, and prevents passengers from taking damage as well.

Patch 3.0.3 (2008-11-04): Added.

Other versions
Horde

Reins of the Grand Ice Mammoth
Mount
Use: Teaches you how to summon this three-person mount.
Horde Only
Requires Level 40
Requires Journeyman Riding
Requires The Sons of Hodir - Exalted
External links
Mount family

Dragonkin
Feathermane
Invertebrate
Mammal
Reptile
Other

Specific types