The subject of this article was removed from World of Warcraft in patch 1.4.0.

This includes items and quests that can no longer be obtained or are now deprecated.
The in-game information in this article is kept purely for historical purposes.
Reins of the Nightsaber
Mount
Use: Teaches you how to summon this mount.
Alliance Only
Requires Level 40
Requires Journeyman Riding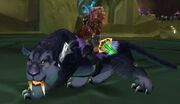 Source
Prior to patch 1.4, this mount was purchasable from Lelanai in Darnassus. With the introduction of the patch, all level 60 mounts were given a new look, and were renamed with the prefix Swift. Those who had an old style level 60 mount could trade it in for a new one, but many opted to keep their old mounts because of their uniqueness.
Mount Journal
Considered one of Azeroth's perfect predators, these agile beasts can sprint through dense forests without making a sound.
Achievements
Patch changes
External links
Mount family

Dragonkin
Feathermane
Invertebrate
Mammal
Reptile
Other

Specific types

 

Removed mounts

Original Epic
Reputation
Retired
reward
Event
Challenge
Promotional
Special