Reins of the Violet Proto-Drake
Reins of the Violet Proto-Drake
Mount
Use: Teaches you how to summon this mount. This is a flying mount.
Requires Level 70
Requires Artisan Riding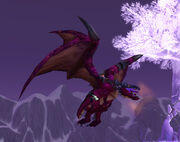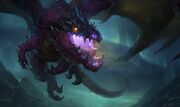 Reins of the Violet Proto-Drake is a proto-dragon mount rewarded for completing the meta world events achievement

[What A Long, Strange Trip It's Been].
Mount Journal
I cannot help but wonder if things would have turned out different if the titans had elevated even one more dragonflight. -Alexstrasza
Notes
This mount was first obtainable during the 2009 Brewfest for those players who had been completing all the necessary achievements since 2008.
Earning this mount used to give Master Riding for free.
Patch changes
Patch 5.0.4 (2012-08-28): No longer awards Master Riding.

Removed use text:

Upon first mounting, a character without Master Riding will learn Master Riding.



Patch 4.2.0 (2011-06-28): Mount now properly grants free Master Riding training.

Patch 4.0.1 (2010-10-12): Acquiring this mount grants free Master Riding skill.

At some point this became bugged and did not grant the free training.

External links
Mount family

Dragonkin
Feathermane
Invertebrate
Mammal
Reptile
Other

Specific types

 

Proto-drake mounts