Resonating Crystal Formation
For items for silithid mounts, see Qiraji Resonating Crystal.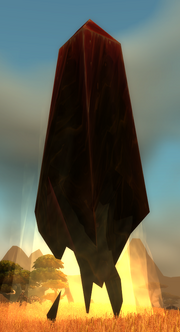 Resonating Crystal Formations could be found in Silithus, Tanaris, Feralas, The Barrens, Darkshore, Thousand Needles and Un'Goro Crater during the opening of the Gates of Ahn'Qiraj event.
These massive obelisks would alternately mind-control player-characters in their vicinity and spawn various anubisath warbringers and silithid, led by a named qiraji.
Trash
Bosses
Patch changes
External links