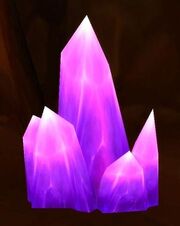 Resonite Crystals can be found in Boulderslide Cavern in Stonetalon Mountains. They have traces of Earthen magic.[1]
As a quest objective
This item is an objective of the following quests:
The subject of this section was removed from World of Warcraft in patch 4.0.3a.
Patch changes
Patch 4.0.3a (2010-11-23): Now a requirement of Da Voodoo: Resonite Crystal.

Patch 1.4.0 (2005-04-19): Fixed the Resonite Crystal not spawning in the Stonetalon Quest "Earthen Arise."

References
External links