This creature can be captured by engaging it in a pet battle.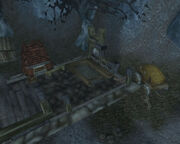 Pet Journal
These creatures are silent, save for the occasional sigh of otherworldly despair.
Battles
Undead: Returns to life immortal for one round when killed, but deals 25% less damage.
Notes
This pet only appears in early mornings (12 A.M. to 9 A.M. server time).
Patch changes
External links
Battle pet types
Undead battle pets

Backbone

Carpal

Clutch

Maw Crawler

Micromancer

Mu'dud

Restless Shadeling

Severs

Spinebug

Toenail

Torghast Lurker

Writhing Spine