For the Classic version, see  [15] 

Resupplying the Excavation

.
Objectives
Locate Huldar, Miran, and Saean.
Find Huldar, Miran and Saean
Description
Ironband has an excavation to the southeast and he's been needing a hefty amount of explosives sent from the league for all the carving. Huldar, Miran, and Saean just departed with the most recent load and could probably use a hand.
They can't have made it very far, strong as they are. They can only move so fast laden down with those barrels.
They're taking the normal route to the site, leaving south out of town and following the curve of the Loch. Go catch up with them and help'm out, will ya?
Rewards
You will receive: 6

Completion
Hmph, it'll take more than a Dark Iron ambush to stop the deliveries!
But Saean... I would never have suspected him to be one of their sympathizers. We've been working with him for almost a year now... maybe I missed the signs.
Well, I'll consider that later.
Notes
Head southeast along the old loch waterline. Just past the southernmost point of the loch at [56.4, 66.0]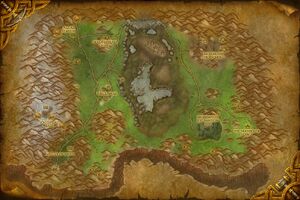 are Huldar and Miran, beset by Saean and three Dark Iron Ambushers!
Southeast of Huldar and Miran is one of the locations mentioned in

 [Gorick's Stash List]: Shanda the Spinner's den. At [61.7, 73.2]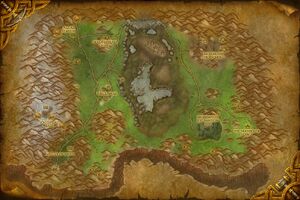 immediately outside of the den is the third Explorers' League Document. Collect it to start

 [5-30] Explorers' League Document (3 of 6).
Progression
Optional breadcrumbs:

 [5-30] Reinforcements for Loch Modan or

 [5-30] Hero's Call: Loch Modan!
South Gate Pass
 [5-30] 

The Lost Pilot

 [5-30] 

A Pilot's Revenge

 [5-30] 

South Gate Status Report
Valley of Kings and Thelsamar
 [5-30] 

In Defense of the King's Lands

 [5-30] 

A Decisive Strike

 [5-30] 

Onward to Thelsamar
Main chain
 [5-30] 

Stormpike's Orders

(optional breadcrumb)
 [5-30] 

A Tiny, Clever Commander

 [5-30] 

Kobold and Kobolder

 [5-30] 

Who's In Charge Here?

 [5-30] 

The Bearer of Gnoll-edge

 [5-30] 

Suddenly, Murlocs!

 [5-30] 

Smells Like A Plan

 [5-30] 

Axis of Awful

 [5-30] 

Resupplying the Excavation

 [5-30] 

Protecting the Shipment

 [5-30] 

Keep Your Hands Off The Goods!

 [5-30] 

Joining the Hunt

,  [5-30] 

Find Bingles

(optional)
 [5-30] 

Wing Nut

 [5-30] 

Bird is the Word

 [5-30] 

Skystrider's Heart

 [5-30] 

He's That Age

 [5-30] 

Standing Up

 [5-30] 

Fight the Hammer

 [5-30] 

Servants of Cho'gall

 [5-30] 

Gor'kresh

 [5-30] 

Ando's Call

 [5-30] 

The Winds of Loch Modan
Patch changes
External links