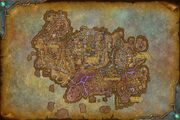 The Revendreth storyline is the final of the four level-up storylines in World of Warcraft: Shadowlands. The Winter Queen of Ardenweald realizes that she and the other leaders require significantly more anima to fend off The Jailer, so she sends the adventurer to Revendreth with a request.
Campaign
Welcome to Revendreth
The Master
The Accuser
The Penitent Hunt
The Mad Duke
Prince Renathal
The Master of Lies
 [60] 

Blinded By The Light

 [60] 

The Master of Lies
This concludes the level-up portion of the Shadowlands campaign. The max-level campaign begins with

 [60] The End of the Beginning.
Side quests
Main article: Sojourner of Revendreth
The Duelist's Debt
Tithes of Darkhaven
 [58] 

Bring Out Your Tithe
Dirty Jobs
The Final Atonement
Mirror Maker of the Master
Revelations of the Light
 [59] 

A Rousing Aroma

 [59] 

Safe in the Shadows

and  [59] 

Rubble Rummaging

 [59] 

Setting Sabina Free
Venthyr campaign
Should players choose the Venthyr Covenant at max level, they will begin the

 [Venthyr Campaign].