Revenge
Revenge

Revenge

Level 28 Protection warrior ability
Melee range
3 sec cooldown
Requires One-Handed Melee Weapon
Swing in a wide arc, dealing (440% of attack power) damage to all enemies in front of you.

Your successful dodges and parries cause your next Revenge to become free.

Usable by
Class
Warrior
Properties
School
Physical
Cooldown
3 seconds
Radius
8 yd
Other information
Level learned
28
Improvements

[

Best Served Cold

]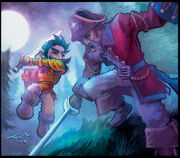 Revenge is a level 28 Protection warrior ability. It is a high-damage melee attack that deals damage to all enemies in front of the warrior. Dodging or parrying an attack will cause the next Revenge to be free.
Tips and tactics
This ability is usually the best way to hold a mob's attention.

[Devastate] is available on demand and can be spammed, and

[Shield Slam] generates more threat per application, but smart tanking warriors use Revenge at almost every opportunity.
Trivia
Patches and hotfixes
Also,

[

Improved Revenge

]

can no longer trigger a stun, taking Revenge off the list of warrior interrupt abilities.

See also
External links