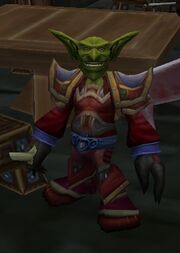 Ribbly Screwspigot is a goblin who hides from bounty hunters in the Grim Guzzler bar in Blackrock Depths.
Background
My brother Ribbly has always been a drain to his family, taking our money and wasting it on one scheme after another. Well, his last scheme must have been his worst, because Baron Revilgaz of Booty Bay just put a price on poor Ribbly's head. I can't tell you how happy this makes the Screwspigots! Our little Ribbly's finally worth something! But now he's hiding out, deep in Blackrock Depths. Please, find him and bring him to me! Or, if he won't come, then that's ok... just bring me his head. - Yuka Screwspigot
Dungeon Journal
Screwspigot has a bad habit of borrowing money and squandering it on get-rich-quick schemes. His latest failure--Ribbly's Chewable Gunpowder--earned him a place on the hit list of Booty Bay's kingpin, Baron Revilgaz. Screwspigot has since fled to the Grim Guzzler, hoping to elude bounty hunters, friends, and family looking to cash in on the baron's bounty.
Abilities
Objective of

This section concerns content related to Cataclysm.
The subject of this section has been removed from World of Warcraft.
Loot
The subject of this section has been removed from World of Warcraft.
Quotes
Gossip
Hello! You're just the person I was looking for. Take a seat and listen, because I have a plan that will make us both rich!

 You're good for nothing, Ribbly. It's time to pay for your wickedness!
Ribbly Screwspigot says: No! Get away from me! Help!!
Patch changes
External links