Riding Harness
Mount
Use: Teaches you how to summon a Dustmane Direwolf. This is a ground mount.
Requires Level 70
Requires Artisan Riding
Requires Leatherworking (700)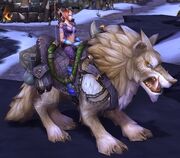 The Riding Harness is a crafted mount that summons the Dustmane Direwolf.
Source
This item is created with Leatherworking (1); taught by

 [Recipe: Riding Harness].
Mount Journal
Cautious by direwolf standards, the dustmane can only be coaxed to ride with something it considers special.
Trivia
During the beta, the mount was simply called Tan Dire Wolf with the following flavor text "The tan dire wolf is awesome."
Patch changes
External links
Mount family

Dragonkin
Feathermane
Invertebrate
Mammal
Reptile
Other

Gravewings

Razorwings

Shardhides

Wilderlings

Specific types