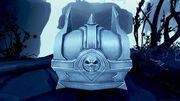 Four Riftbound Caches are found in The Rift of Korthia each day. Access the Rift by using a

 [Repaired Riftkey] at any Korthain Rift Portal, purchased at Tier 4 (honored) with the Archivists' Codex from Archivist Roh-Suir for 100x

[Cataloged Research].
Caches contain 9-15x
 [Relic Fragment] and 10-12 uncommon-quality anima items (50-60 anima). They also contain the

 [Stolen Korthian Supplies] once a week. They may also contain 1-3x
 [Ashen Liniment],
 [Korthian Armaments],

 [Shaded Skull Shoulderguards], and

 [Shadehunter's Crescent]. Night Fae Covenant players may find the

 [Spider Soul] inside.
Tracking quests
To check whether the chest has been looted today, copy and paste this command into the chat window:
/run print(C_QuestLog.IsQuestFlaggedCompleted(<id>))
If a "true" appears in the chat window, the chest has been looted today; "false" indicates the opposite.
| ID | Coords |
| --- | --- |
| 64456 | [38.0, 35.8] / [33.4, 39.3] / [39.8, 43.1] |
| 64470 | [24.8, 56.2] / [26.0, 55.8] / [27.8, 58.9] |
| 64471 | [54.8, 42.4] / [54.2, 54.8] / [61.0, 35.4] |
| 64472 | [64.3, 30.9] / [56.3, 18.4] / [50.8, 33.0] |
Patch changes
External links