The subject of this article was removed from World of Warcraft in patch 6.0.2 but is present in World of Warcraft: Classic.

The subject of this article does not exist on the retail realms anymore.
The categories should reflect this, and should not include retail realm categories.
Rilli Greasygob was a goblin located in Nogg's Machine Shop in the Drag of Orgrimmar. He used to work for Venture Company,[1] and his rival there was Boss Copperplug.[2]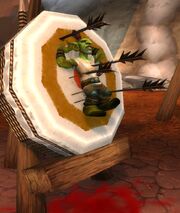 During the Siege of Orgrimmar, he was one of the unlucky goblins tied to a target and shot with arrows to the death by the Kor'kron.
Quests
 [18] 

Rilli Greasygob

 [19] 

Samophlange Manual
Patch changes
References
External links