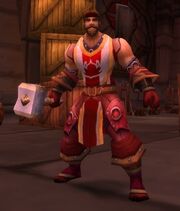 Risen Hammersmith is a undead human blacksmith found in Stratholme Main Gate. Before the Cataclysm, he was known as Crimson Hammersmith, he was not worth mentioning, but since he was risen the dreadlord Balnazzar taught him how to make all sorts of powerful demonic weaponry.
Objective of
Original encounter
The subject of this section was removed from World of Warcraft in patch 4.0.3a.
Originally, he was known as the Crimson Hammersmith and was level 60 elite human. He did not appear normally in the instance but would appear and attack when a player tried to pick up the Blacksmithing Plans.
The Blacksmithing Plans could randomly appear in at least two known locations in Stratholme.
On the floor in the Hoard area before Cannon Master Willey.
On a bench in the alcoves where Archivist Galford is located.
Quests
Drops
Patch changes
Patch 4.0.3a (2010-11-23): Level changed from 60 to 43. Name changed from Crimson Hammersmith to Risen Hammersmith.

External links