Rite of Vision (3)
The subject of this article was removed from World of Warcraft in patch 4.0.3a.

This includes items and quests that can no longer be obtained or are now deprecated.
The in-game information in this article is kept purely for historical purposes.
Objective
Consume the Water of the Seers in front of the tribal fire in Bloodhoof Village and follow the vision once it appears.
Provided Item:
Description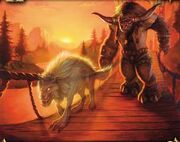 I now present you with the Water of the Seers.
When you are ready, consume the waters near the tribal fire. Once you have ingested the holy waters, it will take a few moments before the vision materializes before the fire.
At that point, it is up to you to follow it to your destiny....
Rewards
Gains
Notes
Progression
 [2] 

A Humble Task

 [3] 

A Humble Task

 [4] 

Rite of Strength

 [6] 

Rite of Vision

 [7] 

Rite of Vision

 [7] 

Rite of Vision

  [10] 

Rite of Wisdom
External links