Ritual Fetish
Use: Carefully crate the restored artifact.
"Artifact details have already been logged in your Archaeology Journal, under the Completed Artifacts tab."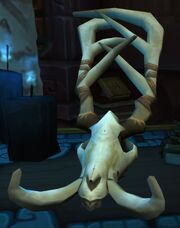 Ritual Fetish...
Description
Ritual Fetish
When the Drust were first learning to attach souls into constructs, they used the bones of their dead as hosts. Once the ritual was complete, these fetishes were said to emanate an eerie blue light, presumably the essence of the soul's power made manifest.
Patch changes
External links