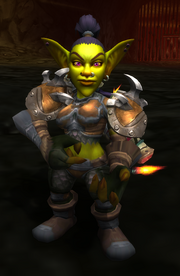 Rixxa Fluxflame is a goblin located in the MOTHERLODE!!. She led the Venture Company's attack on Blackrock Depths.[1]
Adventure Guide
Overseeing the creation of the Venture Co's supply of Azerite Catalyst, Rixxa is a reknowned chemist and gleeful pyromaniac.
Drops
Quotes
Aggro

If you want a job done right... use bigger explosives!
Azerite Catalyst

Looking for Azerite? Have a face full!
Propellant Blast

I love the smell of propellant in the morning!

Safety first!
Killed a player
Inexperience will getcha killed!

Another unqualified applicant!
Death

I shoulda... gotten... hazard pay...
Trivia
In an earlier beta build, the Adventure Guide mentioned "Agent Azerite" instead of "Azerite Catalyst".
Rixxa is voiced by Lucie Pohl.
It seems she may have been named Rixxa Fluxfume in early testing, as that name has a DungeonEncounterID attached.
Patch changes
References
^  [50] 

Blackrock Depths
External links