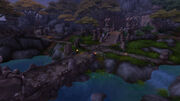 The Road of Glory is the main sub-zone of Ashran, on Draenor, running the length of the island between Warspear in the north and Stormshield in the south. This long and dangerous road sees the Alliance and Horde battling for glory and supremacy, as well as control of the five capturable Towers spaced along its length.
The Road is directly connected to almost all the other sub-zones of Ashran. The Road of Glory lacks the hostile mobs and special items and objectives of the secondary areas, instead hosting the island's main battle between the Alliance and the Horde.
Inhabitants

Please add any available information to this section.

Patch changes