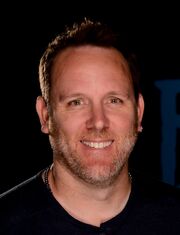 Robert Bridenbecker is the former executive producer and vice president of Classic Games at Blizzard Entertainment.[1] After 26 years, he left Blizzard in April 2021.[2]
Biography
Bridenbecker began working for Blizzard in 1995.[3]
His deep knowledge and passion for online technology led to the establishment of Battle.net, going on to help guide its evolution in the years that followed.[1]
He used to be Vice President of Online Technologies at Blizzard.
Classic Games lead
In 2015, he formed the Classic Games team.[3] In recent years, he led classic games' loving upgrade of the real-time strategy classic in StarCraft: Remastered and brought the acclaimed action RPG Diablo III Eternal Collection to the Nintendo Switch.[1]
Brother's death and tribute in Wrath of the Lich King
His brother was Bradford C. Bridenbecker, who died of cancer in 2007. After his brother's death, he sent an E-mail to Blizzard to request a character be created in tribute; when word of this reached Chris Metzen, a quest chain was written for Wrath of the Lich King, involving a character named Crusader Bridenbrad.[4]
Notes
The NPC Rob Bridenbecker is named after him. The NPC Bradford Bridenbecker is also named after his brother.
References