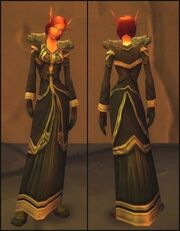 The Robes of Arugal drop from Baron Ashbury in Shadowfang Keep.

The subject of this section was removed from World of Warcraft in patch 4.0.3a but is present in Classic.
The item drops from Archmage Arugal in Shadowfang Keep.
Notes
According to Mathias Shaw, multiple individuals claim to have discovered, and are wearing, the robes. However, he maintains that it is impossible.[1]
Patch changes
Patch 6.0.2 (2014-10-14): Stats squished.

Patch 4.0.3a (2010-11-23): Item level reduced from 29 to 21. Spirit converted to Critical Strike. Spell power removed. Heroic version added. Now drops from Baron Ashbury (previously from Archmage Arugal).

Patch 2.3.0 (2007-11-13): Level requirement decreased from 24 to 20. Agility replaced with Spell Power.

See also
References
Other versions
External links