The subject of this article was removed from World of Warcraft in patch 6.0.2.

This includes items and quests that can no longer be obtained or are now deprecated.
The in-game information in this article is kept purely for historical purposes.
For other uses, see Rockbiter (disambiguation).
Rockbiter Weapon

Rockbiter Weapon
Level 75 shaman ability
9.5% of base mana
Requires Melee Weapon
Imbue the Shaman's weapon with the fury of the earth, increasing all threat generation by 30% and reducing damage taken by 5%. Lasts 60 minutes.

Usable by
Class
Shaman
Properties
School
Nature
Cooldown
None/Global Cooldown
Other information
Level learned
75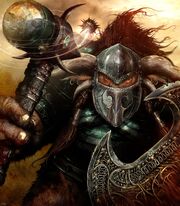 Rockbiter Weapon adds a 30% threat increase to a shaman's spells and attacks and provides a 5% decrease to all damage taken when a weapon is imbued with it. It is learned at level 75.
Notes
Rockbiter Weapon increases threat generation and damage reduction, essentially giving the shaman some tanking capabilities. The shaman class still cannot serve as a full-time tank, though if temporary off-tanking is needed they can fill the role in a pinch with this ability.
Trivia
Patch changes
See also
External links