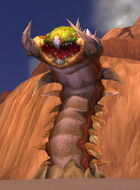 The rockworms, occasionally called centipedes[1] or sand worms,[2] are a type of segmented worm found on Draenor. They are cunning predators, striking at prey from below the sands. Many beasts of Nagrand have grown wary of the rumbling of the earth.[2]
They also appear on the Broken Isles on Azeroth.
Named
Types
As a companion pet
Notes
Speculation
| | |
| --- | --- |
| | This article or section includes speculation, observations or opinions possibly supported by lore or by Blizzard officials. It should not be taken as representing official lore. |
These worms most likely became the sand worms of Outland, except for the bone worms that already existed on Draenor prior to its destruction.
They are likely related to carrion worms. They may somehow also be related to the jormungar of Northrend, since they share the same model.
References
^ a b  [40] 

Riverbeast Training: Ironbore
Creature group
Beast creatures

 

Arthropod

Arachnid
Crustacean
Insect

 

Mammal

Carnivoran
Ungulate

Bovids
Camelids
Cetaceans
Proboscids
Swine