Rolo's Riddle




Ruby Lake, high above the Blazing Way

Start
Mound of Dirt [34.6, 26.7]
End
Rolo's Treasure [66.0, 23.2]
Level
30-35
Category
Timeless Isle
Experience
294000
Rewards
One timeless armor cache
24 72 250
Previous
 [30-35] 

Rolo's Riddle
Objectives
Solve the riddle.
Description
The final step, my treasure calls Above the place where water falls Beneath the shade on vantage high No path to walk but air and sky.
Rewards
You will be able to choose one of these rewards:
You will also receive: 24

72

250

Completion
<This ancient chest has not been disturbed for a long time.>
Gains
Notes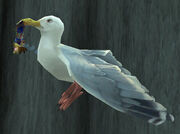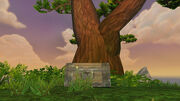 The only waterfall on the isle has its source at Ruby Lake in the northeast corner of the zone. However, it's not accessible on foot, but the "no path to walk but air and sky" points to using a Highwind Albatross to get up there. Aggro one where it flies close to the ground (see the albatross article for locations), then let it fly until it's over the lake. Aggro it again and finish it off, then look for a shade tree. The accessible tree is found on the northern end of the area above the lake, and the path to it starts from the southern end of the lake and goes counterclockwise to reach it. Next to the tree at [66.0, 23.2]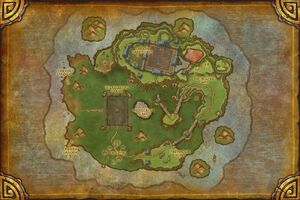 is Rolo's Treasure.
Progression
Intro
Shaohao
Rolo's Riddle:
 [30-35] 

Rolo's Riddle

 [30-35] 

Rolo's Riddle

 [30-35] 

Rolo's Riddle
One-off daily/weekly quests:
Great Chef Woo's repeatables
Patch changes
External links