Rook
Use: Teaches you how to summon this companion.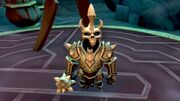 Rook is a Maw guard battle pet that can be found in the
 [Mysterious Gift from Ve'nari], the paragon reward from

 [60] Mysterious Gifts from Ve'nari, started after gaining 10,000 points of standing with Ve'nari at Appreciative (exalted) with her.
Pet journal
Rook never speaks, and little about them is known.
Battles
Humanoid: Recovers 4% of their maximum health if they dealt damage this round.
Patch changes
External links