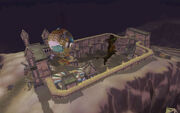 Ruins of Khintaset is an ancient ruin on top of the mountain in northwestern Uldum.[34, 17]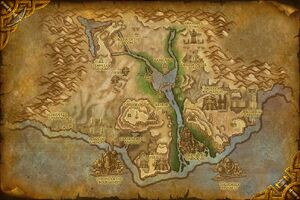 The Maker's Ascent leads to these ruins, which lead to the Temple of Uldum. Schnottz is found here with his forces attempting to discover where the coffer is found. It's unknown what exactly this area was intended for in the days of past, but currently an Obsidian Colossus is found frozen in time in the center of the arena-like ruins.

This section concerns content related to Battle for Azeroth.
During the events of the Black Empire Campaign, the ruins were taken by the aqir.
Notes
Ruins of Khintaset Digsite
The Ruins of Khintaset are also a tol'vir archaeology dig site.
Patch changes
External links