For the in-game NPC, see Russell Brower (NPC).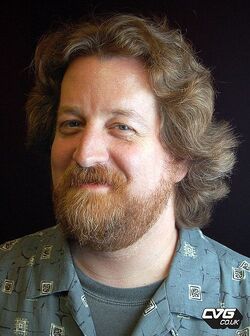 Russell Brower was Senior Director of Audio and Lead Composer at Blizzard Entertainment,[1][2] which he joined in 2005.[3] He is a well known music composer who has created and directed music for World of Warcraft, StarCraft II, Diablo III and Hearthstone. He left the company July 22, 2017 due to his position being eliminated, but indicated that he would likely work with Blizzard as a freelance composer in the future.[4]
Official
Russell Brower has over 30 years of experience as a composer, audio and musical director, and post-production supervisor, with a background that includes television, film, theme-parks, and games. Brower is also a BAFTA-nominated composer and a three-time Emmy Award winner.
Brower is the senior director of audio and lead composer of Blizzard Entertainment, a leading developer and publisher of video games, including World of Warcraft. He previously served as a principal media designer and musical director at Walt Disney Imagineering.
Brower currently serves both on the Society of Composers & Lyricists Board of Directors, and the Game Audio Network Guild (G.A.N.G.), and is a member of ATAS and NARAS.[1]
Notes
In 2015 Brower celebrated 10 years with Blizzard.[5]
Composed music
Glued themes
World of Warcraft
Burning Crusade
Wrath of the Lich King
Cataclysm
Alliance Hero
Barrow Dens
Cold Mountain
Crypt
Elemental
Haunted (Cataclysm)
Land will Weep
Rift
Scarred
Shadows
Treasure
Patch 4.3 - (see also Neal Acree)
Mists of Pandaria
Warlords of Draenor
Arak 2
Caverns of Life
Cold Mountain Duet
Elune's Shadow
Eternal Night
Fel Wasteland
Gardens of Karabor
Garrison Building Complete
Herding Clans
Magnificent Desolation
Premonition
Proudmoore
Quiet Heart
The Clans Join
Legion
Battle for Azeroth
References
External links

Wikipedia

Russell Brower on Twitter