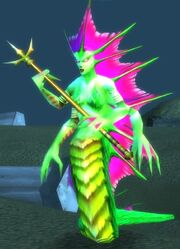 Ruuzel is a naga found on Ruuzel's Isle in Ashenvale. Talen wants the ring Ruuzel possesses.
Abilities
Hand of Azshara - Harness the power of the deep, drawing the target toward the caster.
Swoop - Inflicts 50% weapon damage to an enemy, knocking them back a short distance.
The subject of this section has been removed from World of Warcraft.
Battle Stance
Heroic Strike
Objective of
Quotes
Assemble the schools. We will wash away even the memories of the Alliance and the Horde from Ashenvale!

Destroy Zoram'gar Outpost! Destory the Blackfathom Camp! We march on Maestra's Post and by nightfall Astrannar will lie in ruins!

The Cataclysm is only the beginning. Let the two-legs drown in the sea of their own blood!

Prepare yourselves. We attack at high tide!

I see you, land-walker. come to me... we shall parlay.

To arms! Invaders approach! Strike them down! Let none survive!

Let the might of Zoram rise! Let our enemies be crushed within our coils! Go forth and teach them what it means to face the Wrathtail!

Our great queen beckons us forward. Let us turn the waters red with the blood of our enemies!
Patch changes
External links