Rylak Riding Harness
Rylak Riding Harness
Use: Carefully crate the restored artifact.
"Artifact details have already been logged in your Archaeology Journal, under the Completed Artifacts tab."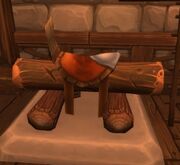 Rylak Riding Harness is a common ogre archaeology artifact, created from 55 Ogre Archaeology Fragments. One
 [Ogre Missive] may be used to solve this artifact.
Description
A brilliant ogre once had a thought that riding a rylak would make travel much faster than using pack animals or walking. Roughly crafted from thick leather and utilizing an excessive number of knots, this seat could comfortably accomodate[sic] an ogre. However, it could only be saddled on a rylak the size of a small mountain which seems to explain why no one has ever seen ogres fly.
Patch changes
External links