Salanar the Horseman
Not to be confused with Lord Solanar Bloodwrath.
Salanar the Horseman is the leader of the Dark Riders of Acherus. He is in charge of equipping the new Death Knights with the means to acquire their Deathchargers. His steed Fury can be found nearby during Phase One. He is able to send players to the Realm of Shadows when they are attempting to claim their own Deathcharger. While in the Realm of Shadows one can find Shadowy Tormentors and Dark Riders of Acherus all around the area.
During Phase Two, he is found, mounted on Fury, near the stage Prince Valanar is standing on while giving a speech to the death knights. His Dark Riders, now friendly, are found patrolling around.
After the revolt against the Lich King, Salanar returned to the Realm of the Shadows. During the Legion invasion he is recruited by the Ebon Blade to create worthy steeds for the new horsemen.[1][2]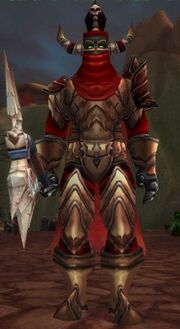 Quests

This section concerns content related to Wrath of the Lich King.
  [55] 

Grand Theft Palomino

This section concerns content related to Legion.
Quote
We will take everything from them, death knight.
Trivia
Patch changes
References
^ a b   [101 - 110] 

Salanar the Horseman

^   [103 - 110] 

Steeds of the Damned
External links