For other uses, see Sanctum.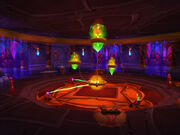 The Sanctum is the warlock guild of Silvermoon City, located on Murder Row. It also has a leper gnome labor division under Keelen's Trustworthy Tailoring within the Bazaar.
NPCs
The Sanctum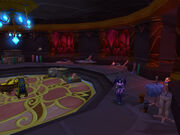 Keelen's Trustworthy Tailoring (The Sanctum)
Quests
Notes
Mathias Shaw reported that the clothing shop that once operated here concealed the leper gnome operation,[1] hinting that it no longer functions.
References