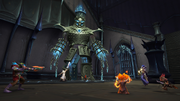 The Sanctum of Domination is a raid in World of Warcraft: Shadowlands, introduced in patch 9.1.0. It is located in The Maw, as the uppermost section of Torghast. It is the home base of the Jailer.[1]
The raid consists of 10 bosses. Encounters include the true Eye of the Jailer, the Tarragrue, Kel'Thuzad, and Sylvanas Windrunner.[2]
Getting there
The instance line and meeting stone are located at [70, 32]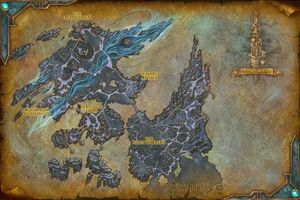 in the back of Helgarde Keep of Desmotaeron in the Maw.
Adventure Guide
For eons the Jailer was bound within The Maw.[sic] Now, his endless armies gather as he expands its boundaries to consume Oribos. In the face of annihilation, Bolvar marshals his last remaining allies to charge into the heart of Torghast and confront the Jailer where he is most powerful.
Encounters
The Jailer's Vanguard
The Jailer's vanguard stands ready to repel any attack. Their lines must be broken to breach the Jailer's sanctum.
The Dark Bastille
Screams of the tormented fuel the Jailer's army. End their suffering and deprive the Maw of its most precious resource.
Shackles of Fate
The soul river ends at the tower's peak. Destroy those feeding off it to free the countless souls deprived of their afterlife.
The Reckoning
Atop the Tower, Sylvanas Windrunner awaits. Here, the final confrontation for the fate of the cosmos will take place.
Geography
Subregions
Loot
Items in the raid drop at two item levels per difficulty: the first eight bosses drop at one item level, and the last two (Kel'Thuzad and Sylvanas Windrunner) drop at a higher item level.
Item levels

| Difficulty | First eight | Last two |
| --- | --- | --- |
| Raid Finder | 213 | 220 |
| Normal | 226 | 233 |
| Heroic | 239 | 246 |
| Mythic | 252 | 259 |
Notable drops
Beyond the normal item drops, there are a handful of unique items or item effects that are found in the raid.
Domination socket items
All armor types have ten items with Domination Sockets, two each in the Head, Shoulders, and Chest slots for the Shard of Domination set bonus, and two each in the hands, wrists, waist, or feet slots.
Collectables
As always, there are some mounts and pets that can be acquired in the raid, either directly from boss drops or as an award for completing achievements.
Mounts
Pets
Opening dates
July 6 - Normal and Heroic
July 13 - Mythic and Raid Finder wing 1 (The Tarragrue, The Eye of the Jailer, The Nine)
July 27 - Raid Finder wing 2 (Soulrender Dormazain, Remnant of Ner'zhul, and Painsmith Raznal)
August 10 - Raid Finder wing 3 (Guardian of the First Ones, Fatescribe Roh-Kalo, and Kel'Thuzad)
August 24 - Raid Finder wing 4 (Sylvanas Windrunner)
Achievements
Videos
Patch changes
References
External links