Sand Scarab
Use: Teaches you how to summon this companion.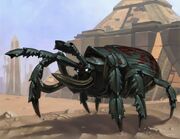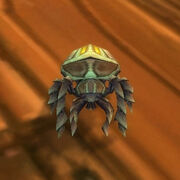 "We're gonna need a bigger boot."
Sand Scarab is a non-combat companion, obtained by a rare card in the TCG expansion Tomb of the Forgotten. To claim the item, a player must first go to the World of warcraft promotion page, enter the 25-digit code found on the card, and then go to Landro Longshot in Booty Bay to finally claim the item.
Pet Journal
Easily mistaken for a common beetle, the sting of a sand scarab will quickly clear up the misconception should you be unlucky enough to be stung by one.
Battles
Patch changes
References
External links
Battle pet types
Critter battle pets

Archetype of Multiplicity

Archetype of Survival

Archetype of Multiplicity

Ashen Chomper

Bloodlouse Larva

Corpselouse Larva

Decaying Mawrat

Decay Grub

Deepwood Leaper

Emerald Scarabid

Feasting Larva

Fierce Scarabid

Frenzied Mawrat

Hissing Deathroach

Leaping Leporid

Metallic Scarabid

Plaguelouse Larva

Sand Scarab

Shelly

Timid Leporid

Tower Deathroach

Undying Deathroach