Sandshell Chitterer
Use: Teaches you how to summon this companion.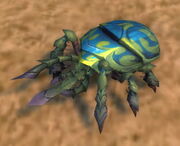 The Sandshell Chitterer is a scarab companion.
Source
This item can be received as a reward from Island Expeditions where scarabs appear.
It can also be looted from the following Island Expedition containers:
Criteria of
Pet Journal
During the warm summer months, the noise that these pests make is enough to drive a person mad.
Battles
Patch changes
External links
Battle pet types
Critter battle pets

Archetype of Multiplicity

Archetype of Survival

Archetype of Multiplicity

Ashen Chomper

Bloodlouse Larva

Corpselouse Larva

Decaying Mawrat

Decay Grub

Deepwood Leaper

Emerald Scarabid

Feasting Larva

Fierce Scarabid

Frenzied Mawrat

Hissing Deathroach

Leaping Leporid

Metallic Scarabid

Plaguelouse Larva

Sandshell Chitterer

Shelly

Timid Leporid

Tower Deathroach

Undying Deathroach