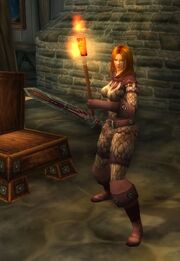 Sarah Ladimore[1] (known in-game simply as Watcher Ladimore) is a human located in Darkshire in the territory of Duskwood. She was a Watcher of the Night Watch who, after the events with the Veiled Hand in Legion, succeeded the former leader as the new Commander of the Watch. Sarah is the daughter of Morgan Ladimore and the only survivor of her family.
Biography
Legion
During the Burning Legion's third invasion, a large number of Night Watchers joined the Veiled Hand, but Watcher Ladimore did not. When the rogues of the Uncrowned infiltrated the town, Ladimore was seen protecting several inhabitants.[2]
Terror by Torchlight
At some point, Sarah became the new commander of the Night Watch.
During their treasure hunt in Duskwood, Mathias Shaw and Flynn Fairwind find Sarah mortally wounded and struck with a rotting disease after she confronts the Necromancer who stole the Torch of Holy Flame in Forlorn Rowe. She is saved by Flynn with a healing potion, before being brought back to Darkshire.
After the Necromancer is defeated and the Torch of Holy Flame had been recovered and purified, she comes to meet Shaw and Flynn to thank them for saving Duskwood from the undead, to which the Spymaster replied that it was mostly thanks to the Night Watch, and that he would send Stormwind guards as reinforcements after the necromancer hinted that the threat was not over. In return, she responds to Shaw's request, and sends watchers to retrieve the treasure for which they had come.[3]
Quests
Quotes
Gossip
How could they believe the Herald's lies? There's dark magic at play here - mark my words.
Please, if you can do anything to stop this, do it now. So many innocent lives lost...
Trivia
During the Legion beta version, she was supposed to join the other members of the Night Watch in the Veiled Hand. A certain public outcry happened due to the previous quests she was involved in, and now in the live version she refuses the call of the Burning Legion instead.[4]
Gallery
Fanart
See also
References
External links