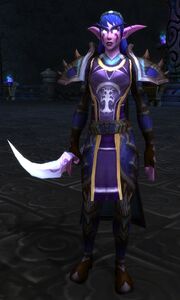 Sarannha Skyglaive is a commander of the night elf forces in Pandaria. Her sentinels play a vital role in the Alliance's acquisition of the Divine Bell.
Her team could first be seen at Mogujia, guarding the Explorer's League as they excavate the Horde-occupied mogu ruins. She ordered the deaths of blood elves at the ruins. She then moved to the Shrine of Seven Stars where the Alliance leaders spoke about the pros and cons of the sha power. After the Divine Bell was discovered within the Ruins of Korune, Skyglaive personally entered the ruins and defeated the mogu guardians within. When the Horde arrived not long after to take the bell, Skyglaive's team held the ruins until the bell was safely transferred to Darnassus. Skyglaive died combating the leader of the Horde assault, Ishi.
Abilities
  Call the Flock — The caster call on the aid of her winged allies to rain Arcane damage on her foes. 
Quests
 [15-35] 

Bad Blood

 [15-35] 

The Ruins of Korune

 [15-35] 

The Divine Bell
Objective of
Quotes
Gossip
Back at the barracks, I heard murmurings of this "sha."
You should have heard the crazy stories - sha possessing our strongest troops? Simply tales to scare children.
The sha are nothing that I and my sisters cannot handle.
Any report from Lion's Landing, <class>?
I didn't think this mission would amount to much, but the blood elves' presence has us all on high alert.
I've never been fascinated by ancient artifacts, but this mission has proven more dangerous than I thought.
I have a bad feeling about the mogu's presence.
There can only be one reason why they're excavating these mogu artifacts, and it's not for knowledge.
They're looking for clues to the mogu's power.
Dialogue
Main article: Bad Blood#Notes
Main article: The Divine Bell (Alliance)#Notes
Main article: The Divine Bell (Horde)#Notes
Forces
Notes and trivia
Though determined to keep the Divine Bell out of Horde hands her taunts about it being within Darnassus would ultimately lead to the Horde acquiring the artifact.
After being defeated, Sarannha kneels, turns

unfriendly

, and then despawns.
Sarannha is voiced by Courtenay Taylor.
Patch changes
External links