Sarge's Tale

Sarge's Tale
1.5 sec cast
Requires Apprentice Riding
Summons and dismisses this mount.

Usable by
Class
All
School
N/A
Cooldown
None/Global Cooldown
Related buff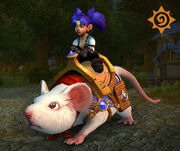 Sarge's Tale is a mount version of Harth Stonebrew's pet rat, Sarge. This mount is a cross-game promotion, earnable as a free reward by completing the tutorial for Mercenaries mode in Hearthstone.[1][2] It became available when Mercenaries launched on 12 October 2021.
Obtaining this mount awards the

 [Sarge's Tale].
Mount Journal
Hold on a sec, Sarge isn't that large, someone must have spun a tall tale in the Hearthstone Tavern...
In Hearthstone

This section contains information exclusive to Hearthstone and is considered non-canon.
Sarge[3][4] is the pet mouse of Harth Stonebrew, the owner of the inn in which Hearthstone takes place. Depicted with white fur and a red scarf, Sarge is frequently seen alongside Harth or by himself in promotional artwork and posters.
Gallery
Patch changes
References
External links
Mount family

Dragonkin
Feathermane
Invertebrate
Mammal
Reptile
Other

Specific types