This article's name is unofficial.

Please note that while the content is valid, this article's name is not official.
This is because no official name is available for the subject of this article. We use a descriptive name instead.
This article should not be moved unless

discussed

first - Remember to follow the naming policy.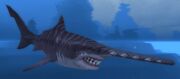 Sawtooth sharks are a type of shark with an elongated saw-like rostrum.
Known
Notes and trivia
In real world biology there are sawfishes (also known as carpenter sharks) which are a family of rays[1] and there are sawsharkes which are members of a shark order.[2] Both of these are physically different form the one seen in World of Warcraft.
Trothak the Shark Puncher has a sawfish shark tied to one of his arms which he can toss at players.
References
Creature group
Beast creatures

 

Arthropod

Arachnid
Crustacean
Insect

 

Mammal

Carnivoran
Ungulate

Bovids
Camelids
Cetaceans
Proboscids
Swine