The subject of this article was removed in patch 4.0.3a but remains in World of Warcraft: Classic.

This includes items and quests that can no longer be obtained or are now deprecated.
The categories should reflect this, and should not include retail realm categories.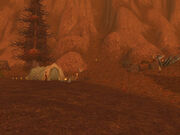 The Scarlet Base Camp is a small barricaded fortification located on the east banks of Lake Mereldar, not far from the religious bastion of Tyr's Hand.
Patch changes
External links