The subject of this article was removed from World of Warcraft in patch 5.0.4 but is present in World of Warcraft: Classic.

The subject of this article does not exist on the retail realms anymore.
The categories should reflect this, and should not include retail realm categories.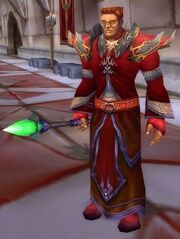 Scarlet Sorcerers were level 37-38 elite humans of the Scarlet Crusade that could once be found inside the Cathedral wing of the Scarlet Monastery.
Abilities
  Blizzard — Calls down a blizzard that lasts 8 sec., inflicting Frost damage every 2 sec. to all enemies in a selected area. 
  Frostbolt — Inflicts Frost damage to an enemy and reduces its movement speed for 4 sec. 
  Slow — Slows the enemy's movement by 50% and their attack speed by 50% for 8 sec. 
Patch changes
See also
External links