Scatter Shot
Scatter Shot

Scatter Shot
Level 20 Marksmanship hunter PvP talent
20 yd range
20 sec cooldown
Requires Ranged Weapon
A short-range shot that deals (25% of Spell power + 4.4616% of Attack power) damage, removes all harmful damage over time effects, and incapacitates the target for 4 sec. Any damage caused will remove the effect. Turns off your attack when used.

Usable by
Class
Hunter
Properties
School
Physical
Cooldown
20 seconds
Other information
Level available
20
Related buff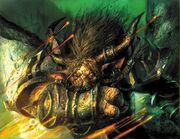 Scatter Shot is a Marksmanship hunter PvP talent that causes a disorient effect.
Tips and tactics
If you need to interrupt a spell or ability, Scatter Shot can do it.
If you need to escape, Scatter Shot is a very good choice. Scatter Shot the enemy, then immediately turn on

[

Aspect of the Cheetah

]

and run. You will outrun most enemies this way provided you have a small head-start, which Scatter Shot can give you. This Scatter Shot > Flee tactic is less effective when you're beset by two or more enemies, as Scatter Shot's cooldown is too long to use on both of them.
Trivia
Patches and hotfixes
External links