Scorched Stone
Use: Teaches you how to summon this companion.
Scorched Stone summons Searing Scorchling.
Source
This item is one of the possible drops from

 [Zen'Vorka's Cache], which can be purchased from Zen'Vorka in the Molten Front for 30

. Originally, this item could be found inside the Ice Chest after defeating Lord Ahune in the Slave Pens during the 2008 and 2009 Midsummer Fire Festival.
Battles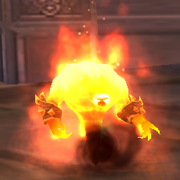 Elemental: Ignores all negative weather effects. Enemy pets can still gain the beneficial effects from weather when facing an elemental.
Objective of
Patch changes
Patch 4.2.0 (2011-06-28): Now rarely found in  

[

Zen'Vorka's Cache

]



Patch 3.3.3 (2010-03-23): This item no longer drops from Ahune.

Patch 2.4.0 (2008-03-25): Added.

External links
Battle pet types
Elemental battle pets

Char

Dread

Fun Guss

Leafadore

Mawtouched Geomental

Searing Scorchling

Stabilized Geomental

Stemmins

Withering Creeper