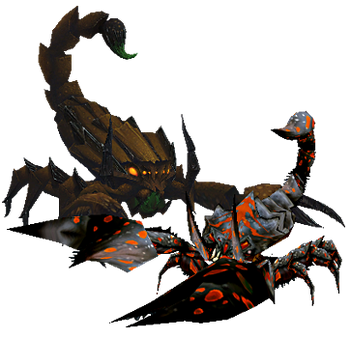 Scorpions are a type of arthropod similar or related to scorpids or arachnathid, and native to both Azeroth and Draenor.[2][3] There are also sea scorpions in the seas of alternate Draenor.
The volatile Durotar scorpion is a fierce desert predator. It's known for only occasionally stinging its owner.[4]
In World of Warcraft, scorpions and scorpids share the same models.
History
First War
Human conjurers of the First War were capable of using the spell Summon Scorpions to help fight against the Horde.
Human Description
Orc Description
Known scorpions
Named
As a mount
As a companion pet
As a hunter pet
Scorpions, who are in the scorpid pet group, are tenacious pets who can disable opponents from using their melee and ranged weapons for a short time with their ability,
[Clench].
In the RPG

This section contains information from the Warcraft RPG which is considered non-canon.
Species
Monstrous scorpion

Monstrous scorpions are likely to attack any creature that approaches, and they usually charge when attacking prey. A monstrous scorpion has a poisonous sting, with details that vary by the scorpion's size.[8]
Notes
Besides goblins and centaur warbands, a few scorpions were one of the only signs of life in the Thousand Needles at one point.[10]
References
Creature group
Beast creatures

 

Arthropod

Arachnid
Crustacean
Insect

 

Mammal

Carnivoran
Ungulate

Bovids
Camelids
Cetaceans
Proboscids
Swine