This creature can be captured by engaging it in a pet battle.
Pet Journal
Despite its snapping claws and venom-dripping tail, it is the bite of the diminutive scorpling that is the greatest threat.
Battles
Notes
It can be found in the Blasted Lands, but only in the original phase. Characters level 90 and up must speak to Zidormi[47, 8]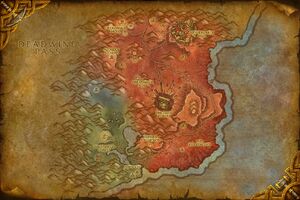 to access this phase.
Patch changes
External links

WarcraftPets
Battle pet types
Beast battle pets

Archetype of Cunning

Archetype of Discovery

Archetype of Predation

Bloodfeaster Spiderling

Blushing Spiderling

Copperfur Kit

Corpulent Bonetusk

Goldenpaw Kit

Green Viperid

King Viperid

Momma Vombata

Red Viperid

Rosetipped Spiderling

Ruby Baubleworm

Rustfur Kit

Sable

Scorpling

Tarachnid Ambusher

Tarachnid Stalker

Topaz Baubleworm

Tunneling Vombata

Turquoise Baubleworm

Verdant Kit

Viperid Menace

Vombata Pup