Scourgelord's Battlegear
10318 Armor
+574 [+28] Strength
+968 Stamina

+63 Hit
+422 Critical Strike
+223 Haste
+80 Expertise

Scourgelord's Battlegear (5 pieces)
 

[

Scourgelord Gauntlets

]


 

[

Scourgelord Helmet

]


 

[

Scourgelord Legplates

]


 

[

Scourgelord Battleplate

]


 

[

Scourgelord Shoulderplates

]

(2) Set: Your Obliterate and Scourge Strike abilities deal 10% increased damage, and your Heart Strike ability deals 7% increased damage.
(4) Set: Whenever all your runes are on cooldown, you gain 3% increased damage done with weapons, spells, and abilities for the next 15 sec.
Combined stats. Numbers in [brackets] indicate socket bonuses
Scourgelord's Battlegear is the lower-level version of the tier 10 damage death knight set.
Source
The Scourgelord's Battlegear items are sold by the following vendors for gold:
The legs and hands items also drops from Toravon the Ice Watcher in Vault of Archavon on 10-man mode.
Items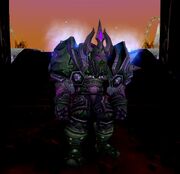 Patch changes
See also
External links