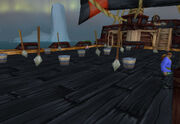 Scuttle Frostprow is a gnome mage located at the Scalawag Point in the contested territory of the Howling Fjord. She sends adventurers to kill the alpha lion seal, Big Roy, so she can use his blubber as a soap to clean the pirate ship docked at the point.
Quest
 [10-30] 

Swabbin' Soap
Quotes
Gossip
Day in and day out all Mad Jonah Sterling wants me to do is swab the decks.
Swab the decks?!
I'm a mage, I don't DO swabbin'! At least not the mundane way.
Patch changes
External links