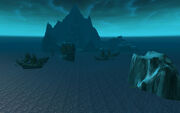 The Sea Reaver's Run is the strait north of Icecrown, between the main continent and Hrothgar's Landing. Upon it are a number of ships belonging to the Sunreavers, the Silver Covenant and the Kvaldir.
At the southern end of the run are The Silver Blade and The Crimson Dawn, waiting to strike.
Halfway between Icecrown and Hrothgar's Landing are The Wavecrest and The Firehawk, fending off raiders in the form of Kvaldir Harpooners, Kvaldir Berserkers and the North Sea Kraken.
Between The Wavecrest and The Firehawk is an unnamed Kvaldir Raiding vessel manned by Kvaldir Deepcallers, which control the kraken.
Gallery
Patch changes
External links