Sea Turtle
Mount
Use: Teaches you how to summon a Sea Turtle mount. This mount can't move very quickly on land, but she's a great swimmer.
Requires Apprentice Riding
The Sea Turtle is an aquatic/land mount that improves swim speed by 60% normally, and by 300% if the rider has

[Sea Legs] in Vashj'ir. She provides no speed bonus on land and does not scale with riding skill. The Sea Turtle was the first official aquatic mount in the game, and currently the second of two amphibious aquatic mounts, the first being the

 [Riding Turtle].
Source
This mount is a very rare catch that may be obtained while fishing in level 70+ zones, and Shipwreck Debris around Darkmoon Island.
If you have a Level 3 Fishing Shack in your garrison, this can also drop from Lunarfall Cavedweller/Frostdeep Cavedweller from fishing in your garrison pond.
Icon description
"Summons and dismisses a rideable Sea Turtle. This mount can't move very quickly on land, but she's a great swimmer.
Due to her calm and steady nature, swim speed is not affected by effects that increase or decrease mount speed."
Mount Journal
Often caught by fishermen at a young age, these mounts are much more comfortable in the water than they are on land.
Achievements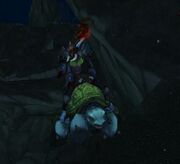 Obtaining this mount will earn the achievement
 [Turtles All the Way Down].
Notes
This mount does not include underwater breathing.
She's a recolor of the Riding Turtle, blue with a green shell.
Aquatic speeds
Patch changes
External links
Mount family

Dragonkin
Feathermane
Invertebrate
Mammal
Reptile
Other

Specific types

 

Aquatic mounts

Seahorse
Ray
Helsquid
Turtle
Unique