For the critter, see Sea Gull.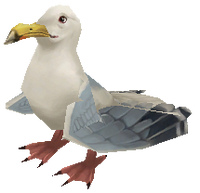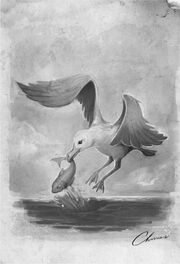 Seagulls, or gulls, are small birds found in a multitude of coastal areas, including Stormwind City.[1] The seagull is a coastal scavenger often found near the docks.[2] The Rustberg gull is a salty veteran of the endless naval battles surrounding Tol Barad — a veteran who's grown plump from picking through the leftovers, that is.[3]
They were first introduced in Cataclysm.
Types
As a hunter pet
Main article: Birds of prey
As a companion pet
 

[

Rustberg Gull

]

can be purchased from  Quartermaster Brazie <Baradin's Wardens Quartermaster> /  Pogg <Hellscream's Reach Quartermaster> in Tol Barad Peninsula at a cost of 50 upon reaching

honored

with Baradin's Wardens / Hellscream's Reach.
Sandy Petrels can be captured in pet battles around Windward Isle off the coast of the Jade Forest.
Sea Gulls can be captured in pet battles in Frostwall, Krasarang Wilds, Talador and Tanaris.
Albatross Chicks can be captured in Azsuna and Stormheim.
References
Creature group
Beast creatures

 

Arthropod

Arachnid
Crustacean
Insect

 

Mammal

Carnivoran
Ungulate

Bovids
Camelids
Cetaceans
Proboscids
Swine
Creature group
Critter creatures

Amphibian
Arachnid
Bird
Crustacean
Fish
Insect
Mammal
Reptile
Other