Seal of Command
The subject of this article was removed from World of Warcraft in patch 7.0.3.

This includes items and quests that can no longer be obtained or are now deprecated.
The in-game information in this article is kept purely for historical purposes.
Seal of Command

Seal of Command

Level 3 paladin ability
1.5 sec cooldown
Fills you with Holy Light, causing melee attacks to deal 10% additional Holy damage.

Usable by
Class
Paladin
Properties
School
Holy
Cooldown
1.5 seconds
Other information
Level learned
3
Related buff
Not to be confused with

[

Seals of Command

]

.
Seal of Command is a paladin ability, available at level 3. At level 24, it is replaced with

[Seal of Truth].
Before it was removed in patch 4.0.1 it was a talent in the Retribution tree, that required 10 talent points invested in the tree to take. Using a
[Judgment] spell while Seal of Command was active dealt Holy damage. Holy damage was also applied on each weapon swing.
Patch changes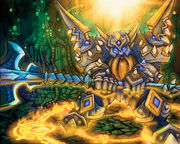 As of Patch 3.0.2, Seal of Command procs on abilities as well as melee on separate ppm charts, significantly increasing the dps of the ability. The damage of SoC was also reduced to 56% of main weapon damage.

Patch 2.1.0 (2007-05-22): Fixed some data errors that caused Seal of Command to generate more threat than intended.

Patch 1.11.0 (2006-06-19):

Clarified tooltip.
Seal of Command critical hits can now trigger Vengeance.

Since Patch 1.11, Seal of Command proc will have approximately 0.5 second delay before the animation begins and the Holy damage is incurred, instead of having the proc occur instantly with the swing of the attack. This is considered a good change, since if the normal swing is a critical strike and Vengeance is triggered, the Seal of Command proc will be affected by the buff.

See also
External links