For the NPC in Stormwind City, see Sean Copeland (NPC). For the community manager, see Lore (CM).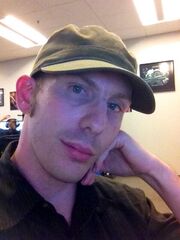 Sean Copeland, also known as Loreology, is the Historian Supervisor of Blizzard's Creative Development team. Sean was promoted to senior historian around March 11, 2014. He was later promoted to lead historian in March 2016, and became Head of Lore in September 2017.[1]
Within the company, historians are "a repository for all Blizzard lore, providing counsel for the game development teams and the Creative Development Story group." As a historian, Copeland handles lore reviews for publications and artwork, researches and documents game events and characters, maintains their lore bibles, conducts lore seminars for employees and takes part in a wide range of meetings from brainstorming sessions to process development. Historians keep track of what Blizzard decides is canon, they do not make the calls.[2]
Sean closed his Twitter in late December 2014 after a period of inactivity. His wife, April, stated that this was due to ongoing health concerns which, coupled with his work, had left him no time to maintain it.[citation needed]  She later clarified that it was she herself who was in bad health, not Sean.[3] Some time later, an unrelated user created a new @Loreology Twitter account.
Some of the archived tweets made by Copeland while using the @Loreology account can be found here or through the Wayback Machine.
In December of 2017, Copeland created a new Twitter account called @Llorewalker, but was not active until February 20th, 2018 when he made his first tweet, stating he's back[4] as the team had been asked to be active on Twitter.[5] Some time later, however, the @Llorewalker account was closed as well following another period of inactivity. As with @Loreology, some of the archived @Llorewalker tweets can be viewed through the Wayback Machine.
World of Warcraft works
Trivia
See also
References
External links

WoW Insider
 A day in the life of Blizzard Historian Sean Copeland